M. Roger White, EdD
Professor Emeritus, University Libraries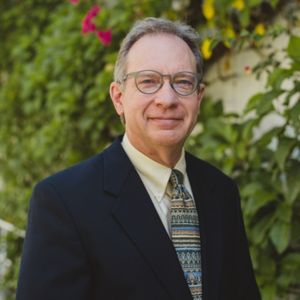 Biography
Roger White, EdD, is Professor Emeritus, former curator of special collections and rare books in the APU University Libraries, and founding curator of the Inklings Collection. His academic interests include C. S. Lewis and the British literary group known as the Inklings, museum education, and the intersection of faith and education.

His work has appeared in The Journal of Inklings Studies, Christian Scholar's Review, and Journal of Christian Education. His books include C. S. Lewis and His Circle: Essays and Memoirs from the Oxford C. S. Lewis Society (Oxford University Press, 2015) and Mapping out Curriculum in Your Church: Cartography for Christian Pilgrims (B&H Academic, 2012). Currently, he is writing a book about the personal library of C. S. Lewis and exploring the role of books and libraries in Lewis's life.

White retired from the APU University Libraries in 2019. Before transitioning full time to the University Libraries faculty in 2016, White had a shared assignment with Azusa Pacific Seminary (2002-2016). His initial faculty appointment was in the School of Education (1991-2002). He also taught the C. S. Lewis education-themed senior seminar for APU's Azusa Oxford Semester in Oxford, England (2007-2009).
Education
MA, Museum Studies, Johns Hopkins University
EdD, Curriculum and Instruction, University of Tennessee
MEd, Secondary Education: Bible, Reformed Theological Seminary
MCE, Christian Education, Reformed Theological Seminary
BS, English and Speech/Broadcasting, East Tennessee State University
Academic Area
Expertise
Curriculum and Instruction
Education Technology
Faith and Education
Courses Taught
HON 260 – Core II: Classic Works of the Medieval, Renaissance, and Reformation Periods
GNRS 505 – Christian Formation for Holistic Nursing Care
WRIT 210 – Writing in the Humanities: C. S. Lewis, J. R. R. Tolkien, and the Inklings
GDMN 704 – Research and Design (Doctor of Ministry)
GDMN 760 – Christian Spirituality and Modern Technology (Doctor of Ministry)
GMIN 506 – Foundations of Educational Ministries (Master of Divinity)
GMIN 526 – Curriculum and Instruction (Master of Divinity)
GMIN 546 – Seminar in Educational Ministry (Master of Divinity)
GMIN 606 – Current Issues in Educational Ministries (Master of Divinity)
GMIN 618 – Philosophy of Ministry (Master of Divinity)
LDRS 571 – Instructional Design and Training Strategies for Leaders
EDUC 400 – Senior Seminar: Faith and the Education Profession
EDUC 500 – Computer Education for Teachers
EDUC 514 – Education Video and Multimedia
EDUC 517 – Networking and Telecommunication
EDUC 519 – Educational Desktop Publishing
EDUC 524 – Instructional Design and Development
EDUC 526 – Practicum: Educational Technology
EDUC 527 – Special Topics: Designing Instruction for Distance Learning
EDUC 527 – Special Topics: Educational Graphics
EDUC 527 – Special Topics: Emerging Trends in Educational Technology
EDUC 573 – History and Philosophy of Education