Professional Memberships
The Office of Innovative Teaching and Technology maintains several professional and institutional memberships for the benefit of faculty and staff. If you have any questions or need any assistance with any of these memberships, contact us at ittsupport@apu.edu.
RightNow Media
RightNow Media is a rich online Christian training resource of more than 10,000 Christian-based videos on many topics, including spiritual growth, leadership, recovery, marriage, singleness, history, and more. It also has 1,000 videos for kids, including VeggieTales, Superbook, Owlegories, and Adventures in Odyssey.
Register for RightNow Media.

Magna Publications' 20-Minute Mentor Commons is a library of short videos addressing common teaching and learning topics. These videos are presented by highly respected experts, and each session is meant to be practical and actionable. Some of the video titles include:
How can I use technology to improve learning?
How can I reduce student apathy and increase motivation?
How do I get students to come to class prepared?
Plus 100+ other teaching and learning topics
Our institutional membership provides complimentary access to these videos for all APU faculty and staff.
Activate your 20-Minute Mentor Commons subscription (Group Authorization Code = APU2173). Once your account is activated you can browse available videos.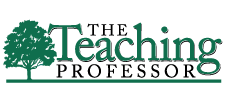 The Teaching Professor is a lively, practical newsletter with a singular purpose: to provide ideas and insights to educators who are passionate about teaching. ITT carries only the most recent issues; if you need older issues, submit a request via itt@apu.edu.

EDUCAUSE is a nonprofit association and the foremost community of IT leaders and professionals committed to advancing higher education. A comprehensive range of resources, networking opportunities, and information services are available to all faculty and staff at member organizations. Create your individual profile and claim your EDUCAUSE membership.

Online Classroom is the newsletter of choice for those who want to stay abreast of the rapidly evolving world of online teaching. This monthly publication covers topics such as online course design, online learning strategies, online course management, engaging online students, and improving online courses. ITT carries only the most recent issues; if you need older issues, submit a request via itt@apu.edu.

The Online Learning Consortium (OLC), formerly the Sloan Consortium, includes groups of individuals, institutions, and organizations committed to quality online education. Our institutional membership provides complimentary individual memberships for all APU faculty and staff. With an OLC membership, faculty and staff can get:
access and discounts to resources dedicated to quality online learning
access to research, effective practices, practitioner documents, and survey reports
discounts on online faculty development workshops and face-to-face conferences, as well as other benefits