APU Traditions
What is the Alma Mater of APU?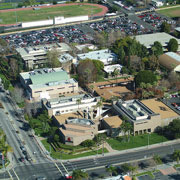 A place to learn, a place to build; a place where hopes can be fulfilled. Beneath the palms and mountain range where friendships form and lives are changed. These things are in our hearts to stay no matter where we are today. And so we sing our thanks to you, Our Alma Mater APU.
How does the APU Fight Song go?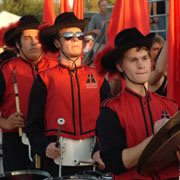 For His honor, APU. Always faithful, ever true. In every challenge, every test, offer your very best. Fight the good fight, persevere. Onward, upward, victory is near. Let every day bring faith anew. Honor Him, APU.
Why is the cougar the mascot?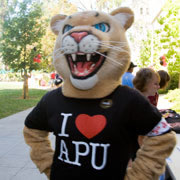 In 1965, when Azusa College and Los Angeles Pacific College joined together and settled into their new campus, the newly formed Associated Student Body was given the task of picking a mascot for the school. It was said that cougars were known to roam the San Gabriel Mountains, so it was only natural that ASB decided to pay tribute to the rumored mountainside dwellers. The mascot today, known amongst students as the Coug, is an active participant in athletic and campus-life events.
How were the school colors selected?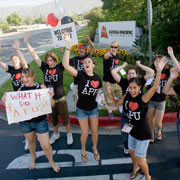 What many current Cougar fans don't know is that the university colors weren't always brick and black. APU used to bleed orange and black, which unfortunately led rivals to coin the nickname "pumpkinheads" due to the football team's bright orange helmets.
The orange and black colors date back to when Azusa College and Los Angeles Pacific College first combined in 1965. Orange was accepted as a compromise from each college's former colors. Instead of choosing blue and white or green, orange offered the combined schools the opportunity to start over and move forward together as a new school with a new identity. And in 1998, it was time for another change. When former president, Richard Felix, first introduced the new brick and black colors, the change was initially met with resistance.
Then associate director of athletics and sports information and APU alumnus Gary Pine was in the university cafeteria when Felix first approached a few students about the change. "No way!" Pine said. "We are black and orange; that's all we are." His primary concern for the change was its similarity to the colors of long-time rival Westmont. "I thought we were just going to look like Westmont," Pine said. In the end, Pine believes the change was a useful move. "It was a good business decision," Pine said. "Orange was a difficult color to market as a university."
The new brick and black look brought with it great success for the university. In the fall of 1998, the football and women's soccer teams won their first-ever NAIA championships. At the same time, the Cougar claw mark and AP athletic logo were introduced, and a new legacy of Cougar athletics began.