Nursing Major
Study BS in Nursing at Azusa Pacific University
You'll graduate distinct in your ability to provide effective, compassionate health care in your nursing career. You'll gain hands-on experience through diverse clinical opportunities, benefit from a cohort-based model, and build experience with state-of-the-art technology—including simulators and virtual patients. You'll discover how to provide evidence-based care for individuals, families, communities, and people groups across the lifespan.
Program at a Glance
The nationally ranked School of Nursing prepares nurses to lead the way in healthcare by providing a deeper level of compassionate care in clinics, hospitals, schools, and beyond.
Program Units
69-71
Location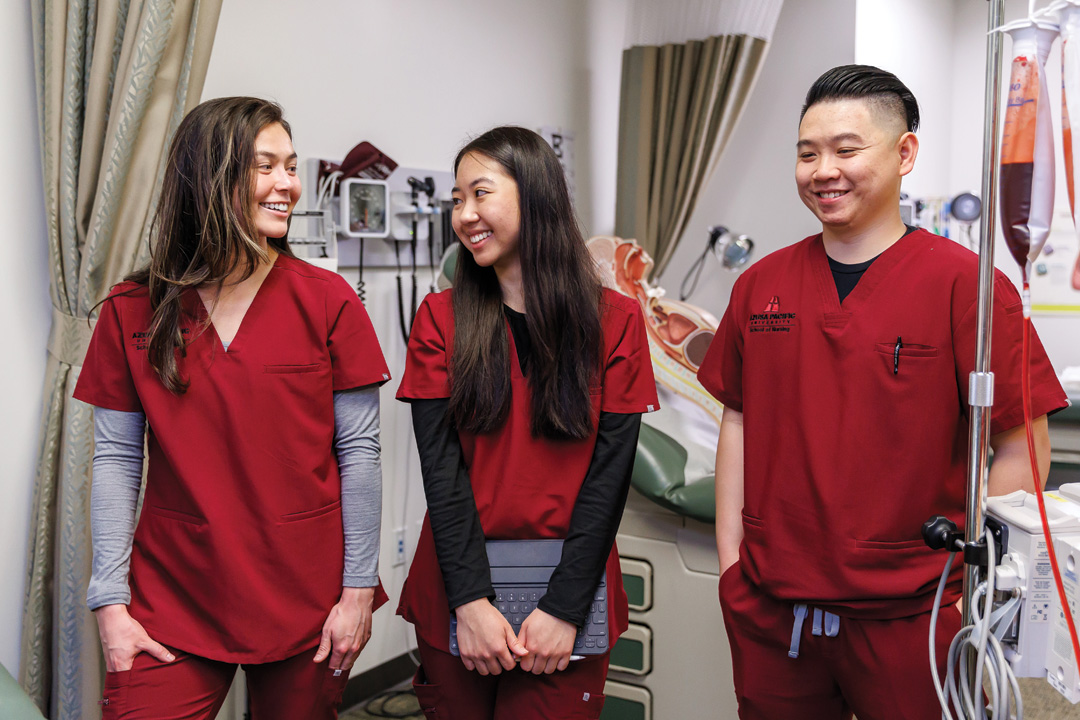 Gain Hands-on Experience
Take part in firsthand clinical experiences across a variety of healthcare settings.

Study in a cohort and progress through the program together.

Examine the intersection of faith and your nursing career.

Learn directly from experienced faculty-practitioners.

Provide compassionate health care to diverse populations.
$132,660
is the average salary of a registered nurse in California
Top 25
Best Schools for Nursing according to Niche.com
90

%
of students pass the NCLEX exam
Avery Burn '24: Sharing God's Love Through Nursing
Avery Burn '24 came to APU to both attend the top-tier nursing program and learn within a Christ-centered community as she pursues her calling in healthcare.
Program Details
The Traditional BSN program is based on a cohort model. All coursework assigned to a specific semester is prerequisite for progression to the next semester. Students in the Traditional BSN program begin their nursing coursework either in the fall or spring semesters and continue in sequence for two consecutive semesters per school year.
Browse the tabs below—if you have questions, visit the Student Services Center page, and we'll make sure you get the info you need.
General Undergraduate Admission Requirements
Select an option below:
School of Nursing Admission Requirements
Admission to the university does not guarantee admission into the School of Nursing. Students interested in being considered for admission into the nursing major must indicate their desire on their application to the university.
Applicants will first be reviewed by the Office of Undergraduate Admissions for general admission to APU. If an applicant meets the minimum requirements for consideration for the BSN program, they will then be reviewed by the School of Nursing Admissions Committee for possible admission into the BSN program.
Determinations will be made by March 1, and letters will be sent to applicants who met minimum requirements and were reviewed by the School of Nursing Admissions Committee, indicating whether they have been accepted into the BSN program. Once accepted into the program, students must remain in that program for the duration of the nursing program.
The BSN program is designed with a specific course sequence; when a student is accepted into a program, a progression schedule is reviewed by the student and the advisor. Since the traditional BSN program is based on a cohort model, all coursework assigned to a specific semester is prerequisite for progression to the next semester. Students admitted from high school to the traditional BSN program will be placed in either a fall (4½-year program) or a spring (4-year program) cohort.
Applicants who are not accepted into one of the School of Nursing BSN programs may still be admitted to the university. These applicants may consider coursework in preparation for application to the Entry-Level Master's in Nursing program (ELM) designed for students who have completed a baccalaureate degree in another major but are interested in pursuing a career in nursing.
Nursing Major Requirements
Applicants interested in the traditional nursing program must meet the following admission requirements:
Submit an

application

to the

Office of Undergraduate Admissions

indicating interest in becoming a nursing major and pursuing the BSN. When you submit your application, be prepared to provide the following:

Copies of all transcripts.

The name and email address of a person who is able to provide a professional recommendation on your behalf. This should be an employer or community leader for whom you have worked or volunteered.

A one-page statement of professional goals in nursing.

A résumé or list of activities reflecting volunteer plus work experience within the past three years. Include leadership positions in volunteer organizations, community service, and/or employment where applicable.

Note: The deadline to apply and submit all required documents in order to be eligible for consideration is November 15.Complete the applicable prerequisite courses with a grade of

B

(3.0) or better including the following:

One year of high school chemistry (or CHEM 101 Introduction to Chemistry);

One year of high school biology (or BIOL 101 Fundamentals of Biology);

Two years of high school math (algebra or geometry). A math placement assessment is required unless the placement assessment is waived. For more information about how to waive the college algebra requirement, visit the

ALEKS assessment page

.

Writing 1: The Art and Craft of Writing. Students will take an online survey before course registration to learn about the different course options for this requirement.

Submit proof of achieving the minimum high school, college, or university cumulative grade-point average of

B

(3.0).

Once a student has received a letter of acceptance into the School of Nursing, proof of the following must be provided prior to the beginning of the first nursing course (UNRS 105):

Successful completion of anatomy with lab (4 units) and organic chemistry with lab (4 units), with no lower than an overall

B-

(2.7) grade-point average, and no lower than a

C

in each course. Note: A student is allowed only one opportunity to repeat a single science course to try to raise his/her grade prior to beginning nursing (UNRS) courses. Students must maintain a

B-

(2.7) average in all subsequent science coursework or be placed on academic probation.

Credit or waiver for college algebra.

A current full physical examination clearance done within the past 12 months. This report is to be submitted the APU Student Health Center.

Current two-step TB test, Hepatitis B, MMR, Varicella, and Tdap (evidence must be submitted either from a current immunization record or from recent titer results. The School of Nursing highly recommends that all students receive quantitative titers for proof of immunity.).

A current background check.

Ability to meet physical sensory technical standards required for safe and competent performance of the duties and skills needed for the nursing profession.

Current CPR with AED certification in Basic Cardiac Life Support for Health Care Providers for adults and children from the American Heart Association.
International Students
Note: International students on an F-1 or J-1 visa are not currently eligible to apply for the 2+2 program, but may apply to the Traditional BSN program.
International students are required to meet the same academic and admission requirements as other students, as well as the following:
Completion of Writing 1: The Art and Craft of Writing and one of the four required sciences taken at an accredited U.S. university with a minimum grade of

C

(2.0), and achievement of a cumulative grade-point average of

B

(3.0) in all college courses completed at Azusa Pacific University after two semesters of full-time enrollment.

The admission requirement for international students with English as a second language (ESL) is a minimum TOEFL score of 80 iBT. For more information about other ways to provide proof of English proficiency, view the

English proficiency requirements

.
Note: Check with the Office of Undergraduate Admissions regarding residency requirements prior to application.
Although a private college education may seem out of reach for many, recent research from Kiplinger reveals that the actual value of some private universities may prove this assumption wrong. In 2010, Kiplinger selected Azusa Pacific University for its Top 100 Best Values in Private Colleges rankings. Read more about APU's ranking in Kiplinger's Best Values in Private Colleges.
APU students may take advantage of three types of financial aid: scholarships and grants, education loans, and student employment.
Scholarships and Grants
Scholarships and grants are considered "gift aid" and do not require repayment. They can come from federal, state, or private sources. Scholarships are typically merit-based, meaning they are awarded depending on demonstrated academic ability or other specific talents.
Scholarships are often available from sources outside of APU. You can search for these scholarships through websites such as finaid.org or fastweb.com. The Student Services Center is sometimes notified of scholarships available through APU departments or local organizations, and can provide information about any available scholarships on request.
Education Loans
Education loans are usually repaid after graduation, may be deferred until after graduate school, and often have very low interest rates.
Military Benefits
Military members—and in some cases their spouses and dependents—qualify for financial assistance covering tuition, housing, and books. Azusa Pacific is a Yellow Ribbon University and Military Friendly School, so you can be confident that you'll receive the benefits and flexibility you need to complete your education.
Student Employment
On-campus student employment is available for students needing additional income to pay for education-related expenses. APU students also find work off campus in the surrounding community.
Net Price Calculator
We're committed to helping families understand early in the college search process the value of the APU experience, and options for affordable financing of a top-tier Christian university education.
Now that you're familiar with the financial aid opportunities available to APU students, it's time to estimate what your true cost may be to attend Azusa Pacific. Remember, estimations are only as accurate as the information you provide. Click on the Net Price Calculator button below to begin.
Net Price Calculator
To view specific requirements and coursework information, visit the current academic catalog:
Azusa Pacific University is accredited by the WASC Senior College and University Commission (WSCUC).

The baccalaureate degree in nursing, master's degree in nursing, and Doctor of Nursing Practice at Azusa Pacific University are accredited by the Commission on Collegiate Nursing Education.

The traditional baccalaureate nursing program, upper-division transfer (2+2/LVN to BSN) programs, entry-level master's program, and the nurse practitioner program are approved by the California Board of Registered Nursing.
Career Outlooks and Outcomes

APU School of Nursing Receives $4.4 Million in Grants from HRSA
APU's School of Nursing, the third largest producer of nurses in the state of California, received two grants totalling $4,396,200 from the Health Resources and Services Administration to help students afford a nursing education.
Note: This information is current for the 2023-24 academic year; however, all stated academic information is subject to change. Please refer to the current
Academic Catalog
for more information.