Stephanie J. Thomas, BM
Applied Instructor: French Horn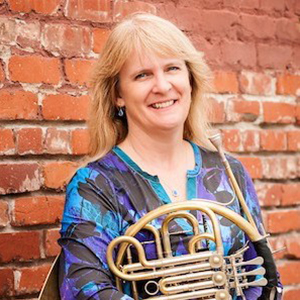 Biography
Stephanie Thomas, BM, had the privilege of studying with Jim Decker and Vincent DeRosa while a student at the University of Southern California, and has been a freelance musician in Los Angeles ever since.

Some of Thomas's professional experience includes: Santa Barbara Symphony, Long Beach Symphony, Pacific Symphony Orchestra, and LA Opera Orchestra, as well as principal horn and section experience with the Los Angeles Philharmonic, Los Angeles Chamber Orchestra, Los Angeles Master Chorale, American Ballet Theatre, just to name a few.

Thomas has performed in shows featuring Ray Charles, Bernadette Peters, Monica Mancini, Michael Crawford, Natalie Cole, and many others. In September 1997, she performed with Carly Simon on The Tonight Show. She was placed on the Los Angeles Philharmonic sub list, as a result of the auditions held in May 1998. She also has substantial recording studio experience for TV, radio and movie sessions (most recently The Greatest Showman, Deadpool 2, and The Lion King).

Thomas has been teaching at Azusa Pacific University since 2004 where she has taught Applied Horn, Horn Master Class, Horn Literature and Horn Pedagogy. She is a member of the APU Faculty WW Quintet. Since the beginning of 2010 she has also been teaching applied horn at Citrus College.
Education
BM, Horn Performance, University of Southern California
Academic Area
School of Music (College of the Arts)
Courses Taught
MUS 1B1 – Applied Brass
MUS 1B2 – Applied Brass
MUS 2B1 – Applied Brass
MUS 2B2 – Applied Brass
MUS 3B1 – Applied Brass
MUS 3B2 – Applied Brass
MUS 440 – Instrumental Pedagogy
MUS 452 – Instrumental Music Literature
MUS 4B1 – Applied Brass
MUS 4B2 – Applied Brass
Office Hours
TBD
Related Links