Bala Musa, PhD
Professor, Department of Communication Studies
Phone:
(626) 815-6000, Ext. 3490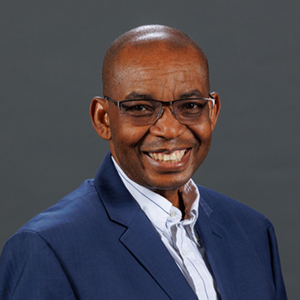 Biography
Bala A. Musa, PhD, is a communication studies generalist and teaches human communication, corporate communication, media studies, and journalism courses. He employs a learner-centered, integrative approach to teaching that makes learning relevant, contextual, transformative, and engaging. As a teacher, scholar, and mentor, Musa models the belief in teaching as a mode of friendship and a commitment to holistic excellence.

His research interests include mass media ethics, communication and conflict, international and development communication, as well as media and popular culture. He is active in many national, regional, and international academic and professional associations. He currently serves on the editorial board of the American Communication Journal and the Journal of African Social Sciences and Humanities Studies.
Education
PhD, Mass Communication, Regent University
MA, Management, Azusa Pacific University
MS, Mass Communication, University of Lagos, Nigeria
BA, Mass Communication, University of Nigeria, Nsukka, Nigeria
Academic Areas
Honors College
Communication

Department of Communication Studies
Expertise
Communication Studies
International and Intercultural Communication
Journalism and Media Studies
Courses Taught
COMM 200 – Introduction to Mass Communication
COMM 230 – Small-group Communication
COMM 260 – Intercultural Communications
COMM 430 – Organizational Communication
COMM 496 – Senior Seminar: Ethics in Human Communication
PUBR 250 – Public Relations
JOUR 305 – Media Law and Ethics
JOUR 315 – Multimedia Publishing and Design
JOUR 325 – Newspaper Workshop
LDRS 561 – Group and Conflict Issues in Leadership
Office Hours
Mondays 2:30PM-4:00PM
Wednesdays 11:40AM-12:40PM
Thursdays 3:00PM-4:00PM
Related Links
Related APU News