English, MA
Earn a MA in English at Azusa Pacific University
You'll graduate at your own pace—earn your degree in as little as 12 months, or attend part-time and graduate in 24 months. You'll increase your career opportunities, enrich your life, and solidify your passions while building advanced competence in literary studies. You'll sharpen highly sought-after skills in critical thinking, persuasive writing, and creative problem solving as you engage with a comprehensive curriculum.
Program at a Glance
The College of Liberal Arts and Sciences offers diverse well-rounded degree programs to prepare critical thinkers to make a difference in the world for Christ.
Application Deadline
Applications are accepted on a rolling basis.
Program Units
30
Cost per Unit
$735
Base Cost
$22,050*
Location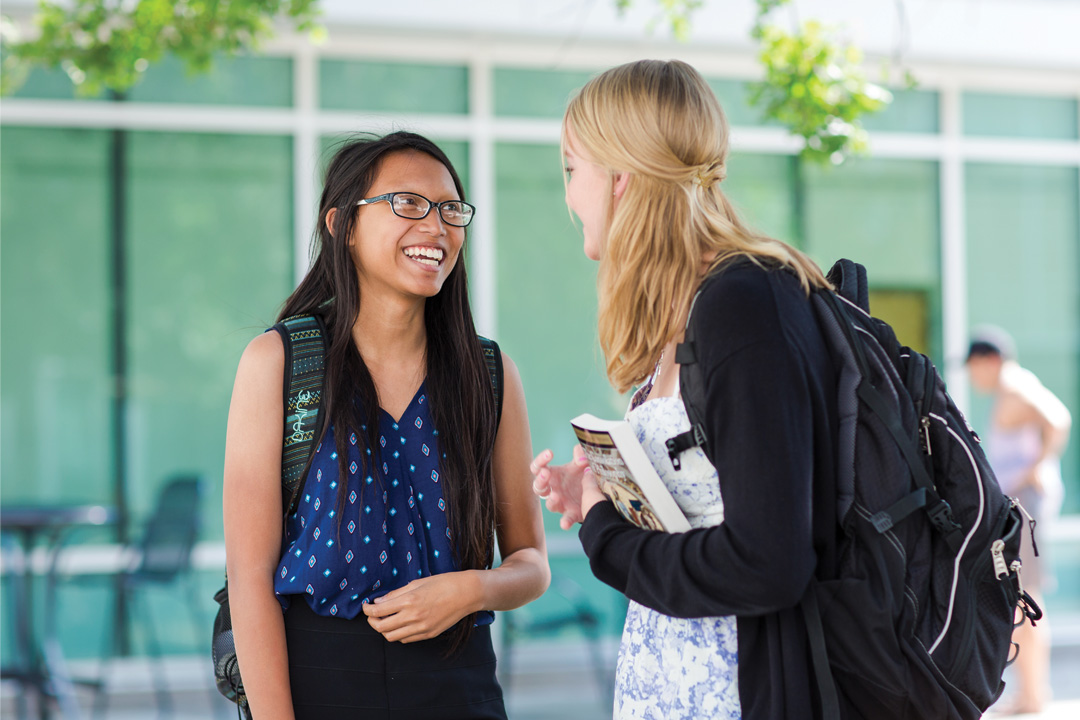 Gain Hands-on Experience
Customize your program experience to your unique interests through diverse course options.

Engage in the larger culture from a Christian perspective.

Explore topics including literature, composition studies, literary criticism, and creative writings.

Develop analytical and creative writing skills with the guidance of expert faculty.

Use a theologically-informed approach to reading, writing, teaching, and thinking about texts.
90

%
of MS Biotechnology Students graduate into successful career paths after completing the MS Biotechnology Degree Program
50

%
of biomedical product companies are located in California
10

%
Expected growth of biomedical engineers and bioengineers careers from 2021-2031
1 of 126
Best Western Colleges according to Princeton Review's 2023 Best Colleges Guide
News Release: Joel Bolton '21, '23 Receives Prestigious Fulbright Award
Joel Bolton, M.A. '23, awarded a prestigious Fulbright Assistantship to Kenya.
Program Details
APU offers an MA in English that provides professional preparation and personal enrichment to students in the field of literary studies, broadly conceived to include literature, cultural/film studies, and creative and/or professional writing.
Browse the tabs below—if you have questions, visit the Student Services Center page, and we'll make sure you get the info you need.
Admission Requirements—Domestic Applicants
The university graduate and program admission requirements below must be met before an application is considered complete.
$45 nonrefundable application fee

Official transcripts from all institutions leading to and awarding the applicant's bachelor's degree from a regionally accredited institution and all postbaccalaureate study






An official transcript is one that Azusa Pacific University receives unopened in an envelope sealed by the former institution and that bears the official seal of the college or university. A cumulative minimum 3.0 (on a 4.0 scale) grade-point average on the posted degree is required for regular admission status. Provisional admittance may be granted to individuals with a lower GPA if competency can be shown through multiple measures.

Bachelor's degrees should ideally be in English or a related field.Résumé or statement of experience, including the most relevant work and volunteer experience

Writing sample, such as a critical essay or research paper in English or a related field

Two recommendations to be submitted by references with knowledge of your academic ability and potential
Admission to the 4+1 BA/MA Option
Open to current APU undergraduate students, the 4+1 BA/MA option has fewer admission requirements. View requirements below and apply.
Admission Requirements—International Applicants
Azusa Pacific University is authorized under federal law by the U.S. Citizen and Immigration Services and the U.S. Department of State to enroll nonimmigrant, alien undergraduate and graduate students. APU issues and administers both the I-20 and DS 2019 (F-1 and J-1 status documents respectively).
To apply for a graduate program at APU, the following requirements must be fulfilled in addition to meeting the domestic applicant and program-specific admission requirements specified above.
International applicants must also:
Demonstrate proficiency in English through a placement test with the

Academic Success Center

, or through a TOEFL/IELTS score that meets program-specific requirements. Refer to APU's

English proficiency requirements

to learn more. Request that official test scores be sent to APU. All other forms of proof indicated in the English proficiency requirements must be submitted directly to International Services.

Provide a

Graduate Affidavit of Financial Support (PDF)

and a bank statement from within the last six months proving financial ability to pay for education costs through personal, family, or sponsor resources.

Submit a copy of a valid passport showing biographical data, including your name, country of citizenship, date of birth, and other legal information.

Get foreign transcripts evaluated. International credentials (transcripts, certificates, diplomas, and degrees) must be evaluated by a foreign transcript evaluation agency. View our policy and a list of approved

Foreign Transcript Evaluation Agencies

.
Send official transcripts to:
Office of Graduate and Professional Admissions
Azusa Pacific University
PO Box 7000
Azusa, CA 91702-7000
[email protected]
What to Expect
After all admission materials have been received by the Student Services Center, the faculty or department chair reviews the applicant's file. The applicant is notified in writing of the admission decision.
Delivering high quality graduate programs takes a comprehensive support system. Your investment in an advanced degree includes a complete network of student services and access to a community of faculty and staff who partner with you in your pursuit of your master's in English.
Tuition

| | |
| --- | --- |
| Tuition (per unit) | $735 |
| Units | 30 |
| Base Program Cost | $22,050 |
Financial Aid
Several types of financial aid are available to graduate students. The resources range from federal loans and state grants to, for some graduate programs, fellowships and scholarships. For details about financial aid available for your program, please contact the Student Services Center at (626) 815-2020.
Military Benefits
Military members—and in some cases their spouses and dependents—qualify for financial assistance covering tuition, housing, and books. Azusa Pacific is a Yellow Ribbon University and Military Friendly School, so you can be confident that you'll receive the benefits and flexibility you need to complete your education.
To view specific requirements and coursework information, visit the current academic catalog:


Fifth-year Master's for APU Undergraduates
Current APU undergraduate students may apply to the Master of Arts in English fifth-year option. In this 4+1 program design, you can complete your bachelor's degree and, in just one additional year, your master's degree. Admitted students can take up to 9 units of 500-level graduate coursework during their senior year, finishing the remaining 21 units for the master's degree over the next academic year (e.g., 6-9 units in the fall term, 6-9 units in the spring term, and 3-6 units in the summer term).
Benefits for APU Students
As a senior, you can take up to 3 graduate courses (9 units) for both undergraduate and graduate credit.
Your graduate application fee is waived.
There's no need to request transcripts.
Applying to the 4+1 Program
During the application process, you will submit:
A brief résumé
A writing sample, which could be a critical essay or research paper from an undergraduate class
Two recommendations from references with knowledge of your academic ability and potential
For more information about the 4+1 BA/MA option, contact Emily Griesinger, PhD, program director, at [email protected].
Some debate the advantages of earning a master's degree in a soft subject like English. While popular degree rankings often rely heavily on financial gains and jobs data, they fail to take into account the benefits that make an MA in English deeply worthwhile. An MA in English is for the student passionate about literary studies, scholarly pursuits, or writing. A close look at the master's in English reveals that, in addition to the intangible benefits of personal enrichment and educational accomplishment, the graduate degree can indeed help students further their career opportunities.
Checks Off Employers' Wish Lists
Across the board, employers value communication skills, creative thinking, and adept writing. The MA in English develops each of these aptitudes, strengths that are highly sought after in virtually every career field. "In our world of rapid change, job-specific skills have an ever-shorter shelf life," said David D. Esselstrom, PhD, professor emeritus of English. "What doesn't become old or dated is the ability to face new challenges and analyze them, to respond thoughtfully, and finally to evaluate and skillfully articulate one's findings."
According to an analysis of job growth and education requirements by Georgetown University's Center on Education and the Workforce, communication, decision-making, and analysis are among the most in-demand competencies across the job market. Students learn advanced skills in these areas in an MA in English program, enhancing their ability to think critically, write persuasively, and solve problems creatively. Notably, graduates with degrees in the liberal arts are a prized commodity, even in the ever-shifting science and tech fields, according to a Forbes report: "Throughout the major U.S. tech hubs … software companies are discovering that liberal arts thinking makes them stronger."
Prepares for a Variety of Career Options
Rather than equipping students for a single job or career track, the MA in English serves as a strong foundation for a wide variety of careers, as demonstrated by graduates holding bachelor's and master's degrees in English. "We have alumni who are lawyers, teachers, professors, school administrators, web developers, editors, and authors," said Esselstrom. "APU English alumni are represented in the film industry, publishing, insurance, public relations, business, and law enforcement. We also have graduates living in Indonesia, Japan, and other places around the world teaching English and working in government and business."
Because graduates end up in such myriad fields, rankings that look at generic employment growth projections—from a limited range of closely associated jobs—often leave out English master's degree holders who are thriving in other areas.
Advances Careers in Traditional Paths
An MA in English is a popular choice for those pursuing more traditional career paths in higher education or high-school teaching. The addition of a master's in English may bring added responsibility or a promotion for an educator, and it can open the door to broader job opportunities that require a graduate-level degree. Earning a graduate English degree also represents a significant step toward further studies at the doctoral level, for those who plan to earn a PhD and advance in academia. "Pursuing the English master's degree can be a natural choice for teachers wishing to climb further up the salary scale through professional development, for scholars thinking of tackling the PhD, and for pastors wishing to broaden their outlooks and analytical skills," explains Esselstrom.
Enhances Job Growth and Stability
Earning a master's in English or another subject increases a graduate's earning potential. Data from the Bureau of Labor Statistics illuminates this point: Master's degree holders make an average of $11,800 more each year than those with just a bachelor's degree. And jobs requiring a master's degree are expected to grow the fastest in the coming years, making graduate school a worthwhile investment for many.
If you have questions, we're here to help! Connect with a representative who can walk you through the program details and application process.
Contact Your Admissions Representative
Additional Program Contact
Emily Griesinger, Ph.D., director of graduate studies, [email protected], (626) 815-6000, Ext. 3745
College of Liberal Arts and Sciences
Phone
(626) 815-6000, Ext. 3500
Email
Mail
College of Liberal Arts and Sciences
Azusa Pacific University
PO Box 7000
Azusa, CA 91702-7000
Student Services Center
Contact (626) 812-3016 or [email protected], and visit apu.edu/ssc for details on the admissions process, financial aid, and class registration.
International Services
International students should contact +1-626-812-3055 or [email protected], and visit apu.edu/international/.
Azusa Pacific University is accredited by the WASC Senior College and University Commission (WSCUC).
Featured Faculty
Professor, Department of English; Program Director, M.A. in English
Professor, Department of English
Professor, Department of English
Career Outlooks and Outcomes
Dynamic Conference for Christianity and Literature Draws Scholars from Across U.S.
APU recently hosted the Conference for Christianity and Literature, bringing more than 120 students representing 36 universities across 10 states to campus to learn from renowned speakers under the theme, "Literature as Vocation."
Note: This information is current for the 2023-24 academic year; however, all stated academic information is subject to change. Please refer to the current
Academic Catalog
for more information.
*Base Cost (cost per unit x program units) is provided to aid in program comparison only.
All stated financial information is subject to change. View Tuition tab above.