Lead Business Transformation with an MBA
Available Online
Azusa Pacific University's School of Business and Management offers a customizable, Christ-centered Master of Business Administration (MBA) degree program that prepares ethical leaders capable of adapting to the changing business landscape. This program teaches working professionals the key concepts and skills, both analytical and relational, to be successful managers and leaders in business and society.
APU's Online MBA Wins National Recognition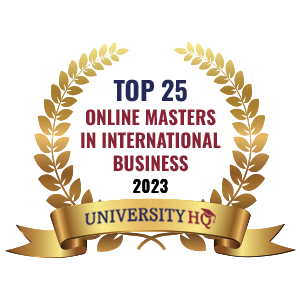 Master's Programs Guide, an online guide to finding the best master's program for your career goals,
recently ranked APU's online MBA with a concentration in entrepreneurship No. 6 nationwide in that category
, alongside such prestigious institutions as North Carolina, Illinois, and Syracuse. And UniversityHQ, a leading online resource for students wishing to pursue higher education,
recently ranked APU's MBA program No. 48 in California
, and
ranked the online MBA with a concentration in international business No. 17 in the nation
.
You Decide What, When, and Where to Study
The School of Business and Management gives MBA students the freedom to structure the program based on their individual schedules and career interests. All MBA students complete the same required core of business courses, then choose from a broad range of concentrations, including accounting, entrepreneurship, finance, international business, marketing, organizational science, and sport management. Students also get to choose when and where to study: face-to-face instruction in a classroom, or online classes; at the main campus in Azusa, or at one of four regional campuses. You can even mix and match delivery formats—for example, studying at Azusa one semester and either online or at a regional campus the next. Full-time students who take advantage of online, afternoon, and evening courses can graduate in as little as 12 months.
What Businesses Need in Leaders Today: Adaptability in the Workplace
Businesses everywhere are figuring out how to adapt and navigate in this complicated time. Learn more about the traits needed for adaptability in the workplace to prepare for and lead success, and how APU' business programs help you prepare.
Earn Microcredentials
As a student in the School of Business and Management, you have the option of earning internationally recognized badges or certificates, also known as microcredentials, to build your résumé and make yourself more marketable. Microcredentials are available for Formstack, Tableau, Python, Hootsuite, Google Digital Garage, Excel, Project Management, and many other areas. Learn more about microcredentials.
Join Us at an Information Meeting
Other MBA Degree Highlights
Eight-week terms
Six start times per year
Engage in optimal faculty-to-student and peer-to-peer interaction for networking and support
Opportunities for domestic and international travel
Develop a strong business code of ethics
Opportunities to visit companies and meet with executives
Learn more about our faculty. For students interested in earning their MBA degree online, Azusa Pacific also offers an online option.
School of Business and Management Accreditation
Azusa Pacific University receives accreditation from the WASC Senior College and University Commission (WSCUC). In addition, the School of Business and Management receives accreditation from the International Assembly for Collegiate Business Education (IACBE), and is a member of the Association to Advance Collegiate Schools of Business (AACSB).
Outcomes Assessment Results
Read IACBE's Outcomes Assessment Results (PDF) to learn how we're doing.
University Reputation
U.S. News & World Report's America's Best Colleges 2023 edition named Azusa Pacific to its list of top national universities and several other significant lists, including First-Year Experiences and Top Performers on Social Mobility. The Princeton Review designated APU as 1 of 126 institutions in the "Best Western Colleges" section of its 2023 Best Colleges guide. APU's School of Nursing was named a top nursing school in California for 2023 by College Factual and Niche. APU was included as a top-100 degree producer by Diverse: Issues In Higher Education and is a designated Hispanic-Serving Institution (HSI). Azusa Pacific is also a Military Friendly School and Yellow Ribbon University, serving more than 500 military-connected students and families, and is classified by the Carnegie Foundation as an R2 Doctoral Research University.
Note: This information is current for the 2023-24 academic year; however, all stated academic information is subject to change. Please refer to the current Academic Catalog for more information.