Post-Master's Certificate in Healthcare Administration and Leadership
Earn a Post-Master's Certificate in Healthcare Administration and Leadership at Azusa Pacific University
You'll expand your career opportunities in nursing by gaining expertise in managing teams, resources, and healthcare finance. You'll build on your skills from the Master of Science in Nursing program. We'll also empower you to excel in nursing leadership and drive positive change in patient care delivery. You'll be equipped for administrative roles in a variety of settings, and pave the way for advancing your career and making a difference in the healthcare field.
Program at a Glance
The nationally ranked School of Nursing prepares nurses to lead the way in healthcare by providing a deeper level of compassionate care in clinics, hospitals, schools, and beyond.
Application Deadline
Applications are accepted on a rolling basis and are reviewed as they are completed for each term. The application deadline is approximately three weeks before the start of each semester.
Program Units
19
Cost per Unit
$860
Base Cost
$16,340*
Location
Azusa (Main Campus), Online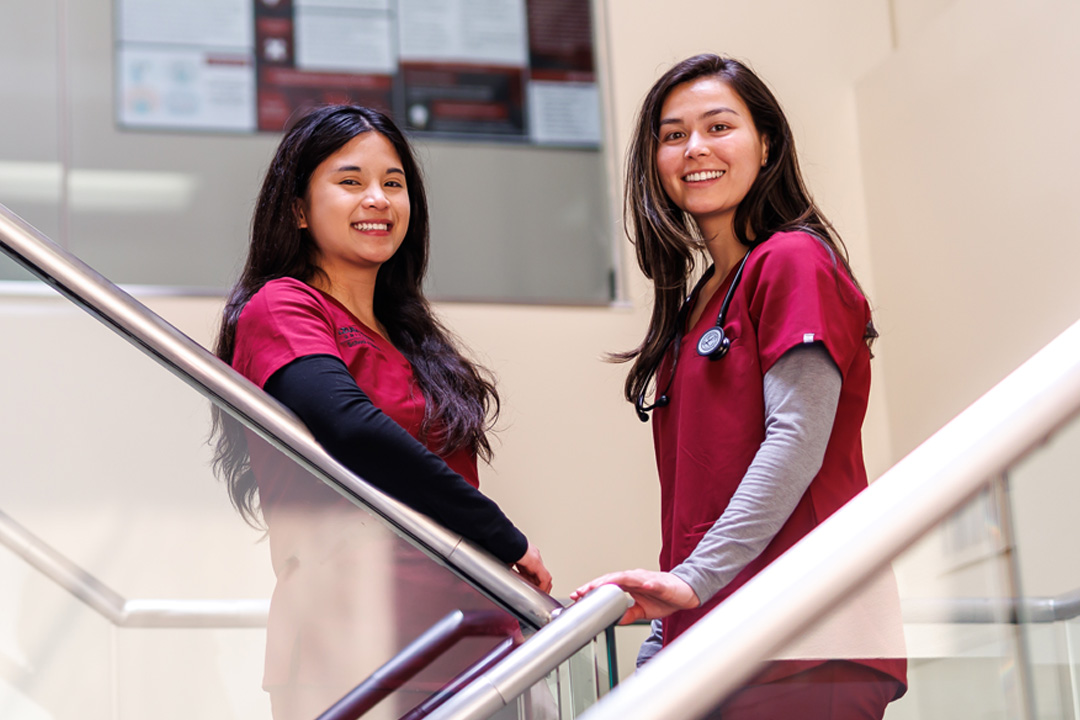 Gain Hands-on Experience
Gain practical insights to develop your nursing, organizational, and business skills.

Learn to lead and drive positive change from faculty-mentors.

Acquire experience during two administrative practicum experiences in healthcare settings.

Learn to navigate the financial aspects of patient care delivery.

Enhance your nursing career opportunities in specialized administrative positions.
1 of 126
Best Western Colleges according to Princeton Review's 2023 Best Colleges Guide
13

:1
Student-to-faculty ratio
Top 25
Best Schools for Nursing according to Niche.com
Program Details
The Post-Master's Certificate in Healthcare Administration and Leadership program prepares professionals for administrative positions and leadership opportunities in nursing in a variety of healthcare settings. Coursework focuses on strategic leadership, leading change, managing teams and resources, and the business of healthcare finance and patient care delivery. This program is a way for nurses to advance their career options and builds on skills and knowledge obtained in a Master of Science in Nursing program.
Browse the tabs below—if you have questions, visit the Student Services Center page, and we'll make sure you get the info you need.
Prerequisites
Master's degree in nursing

Completion of courses in health assessment, pathophysiology, nursing research, statistics, nursing leadership, and community health nursing equivalent to those offered in the APU undergraduate nursing program

Completion of an undergraduate health assessment course (see Additional Requirements below)
Please contact the School of Nursing at (626) 815-5391 for information on prerequisite courses.
Admission Requirements—Domestic Applicants
The university graduate and program admission requirements below must be met before an application is considered complete.
$45 nonrefundable application fee

Official transcripts from all institutions leading to and awarding the applicant's bachelor's and master's degrees from a regionally accredited institution and all postbaccalaureate study






An official transcript is one that Azusa Pacific University receives unopened in an envelope sealed by the former institution and that bears the official seal of the college or university. A cumulative minimum 3.0 (on a 4.0 scale) grade-point average on the posted degree is required for regular admission status. Provisional admittance may be granted to individuals with a lower GPA if competency can be shown through multiple measures.

Official transcripts should include all study leading up to and including posted BSN and MSN degrees from NLN- or CCNE-accredited programs. Transcripts should indicate completion of the following prerequisite courses: health assessment, pathophysiology, nursing research, statistics, nursing leadership, and community health nursing.Written statement, one to two pages in length:

Describe your professional nursing goals

Articulate your personal definition of nursing and concept of career opportunities in this field

Copy of RN license status, including your name (find status on CA.gov's

Breeze

system)

Current résumé, including the following:

Employment and educational experience

Professional or academic honors

Volunteer activities

Two recommendations from professional references who have the ability to evaluate your performance (e.g. managers, supervisors, and academic faculty; not coworkers)

See additional requirements for program-specific requirements
Send official transcripts to:
Office of Graduate and Professional Admissions
Azusa Pacific University
PO Box 7000
Azusa, CA 91702-7000
[email protected]
Admission Requirements—International Applicants
Azusa Pacific University is authorized under federal law by the U.S. Citizen and Immigration Services and the U.S. Department of State to enroll nonimmigrant, alien undergraduate and graduate students. APU issues and administers both the I-20 and DS 2019 (F-1 and J-1 status documents respectively).
To apply for a graduate program at APU, the following requirements must be fulfilled in addition to meeting the domestic applicant and program-specific admission requirements specified above.
International applicants must also:
Demonstrate proficiency in English through a placement test with the

Academic Success Center

, or through a TOEFL/IELTS score that meets program-specific requirements. Refer to APU's

English proficiency requirements

to learn more. Request that official test scores be sent to APU. All other forms of proof indicated in the English proficiency requirements must be submitted directly to International Services.

Provide a

Graduate Affidavit of Financial Support (PDF)

and a bank statement from within the last six months proving financial ability to pay for education costs through personal, family, or sponsor resources.

Submit a copy of a valid passport showing biographical data, including your name, country of citizenship, date of birth, and other legal information.

Get foreign transcripts evaluated. International credentials (transcripts, certificates, diplomas, and degrees) must be evaluated by a foreign transcript evaluation agency. View our policy and a list of approved

Foreign Transcript Evaluation Agencies

.
Send official transcripts to:
Office of Graduate and Professional Admissions
Azusa Pacific University
PO Box 7000
Azusa, CA 91702-7000
[email protected]
What to Expect
After all admission materials have been received by the Student Services Center, the faculty or department chair reviews the applicant's file. The applicant is notified in writing of the admission decision.
Delivering high quality graduate programs takes a comprehensive support system. Your investment in an advanced degree includes those services and personnel that partner with you in pursuit of higher education. Below is a detailed breakdown of the fees associated with the benefits and services included in your degree program.
School of Nursing Fees
Tuition and Fees

| | |
| --- | --- |
| | Cost |
| Nursing Master's Degree, Credential, and Most Certificate Programs (per unit) | $860 |
| PhD in Nursing and Doctor of Nursing Practice (DNP)(per unit) | $1,160 |
| Oncology Nurse Practitioner Certificate (per unit) | $1,160 |
| Audit (per unit) | half-price tuition |
| Nursing Clinical Fee (per course; includes malpractice insurance) | $200 |
| Graduate Nursing Advanced Practice Lab Fee (per course) | $275 |
Nursing courses may require additional fees. View a complete list of university fees.
All stated financial information is subject to change. Contact Student Services Center at (626) 815-2020 for more information.
Financial Aid
Several types of financial aid are available to graduate students. The resources range from federal loans and state grants to, for some graduate programs, fellowships and scholarships. For details about financial aid available for your program, please contact the Student Services Center at (626) 815-2020.
Military Benefits
Military members—and in some cases their spouses and dependents—qualify for financial assistance covering tuition, housing, and books. Azusa Pacific is a Yellow Ribbon University and Military Friendly School, so you can be confident that you'll receive the benefits and flexibility you need to complete your education.
Program-Specific Aid
For more details on these scholarships and funding opportunities, as well as other possible resources, please contact the School of Nursing at (626) 815-5386.
Nurse Faculty Loan Program
The Nurse Faculty Loan Program is a government loan program set up to increase the number of qualified nursing faculty by providing loans to students in advanced nursing education programs. Students must be pursuing a MSN or doctoral nursing degree. The NFLP loans will be forgiven—up to 85 percent of the amount received—over a consecutive four-year period if the student commits to serve as full-time faculty at a school of nursing following graduation. Faculty at private universities, state schools, and community colleges are eligible. Students receiving these loans must also complete the nursing education courses prior to graduation.
To view specific requirements and coursework information, visit the current academic catalog:
Azusa Pacific University is accredited by the WASC Senior College and University Commission (WSCUC).

The baccalaureate degree in nursing, master's degree in nursing, and Doctor of Nursing Practice at Azusa Pacific University are accredited by the Commission on Collegiate Nursing Education.

The traditional baccalaureate nursing program, upper-division transfer (2+2/LVN to BSN) programs, entry-level master's program, and the nurse practitioner program are approved by the California Board of Registered Nursing.
Career Outlooks and Outcomes

APU School of Nursing Receives $4.4 Million in Grants from HRSA
APU's School of Nursing, the third largest producer of nurses in the state of California, received two grants totalling $4,396,200 from the Health Resources and Services Administration to help students afford a nursing education.
Note: This information is current for the 2023-24 academic year; however, all stated academic information is subject to change. Please refer to the current
Academic Catalog
for more information.
*Base Cost (cost per unit x program units) is provided to aid in program comparison only.
All stated financial information is subject to change. View Tuition tab above.