Najood Ghazi Azar-Chaaya, PhD, MSN, MSN-Ed, RN
Associate Professor
Phone:
(626) 815-6000, Ext. 6314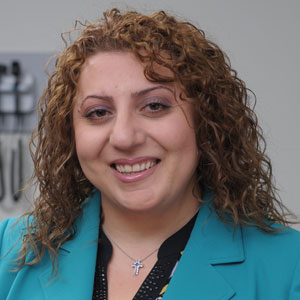 Biography
Dr. Najood Azar, PhD, MSN, MSN-Ed, RN, is an Associate Professor in the School of Nursing at APU. She brings several clinical experience from the United States and overseas, including medical-surgical and pediatrics. Dr. Azar has also been involved in academia since 2001. Dr. Azar joined APU's nursing faculty as full-time faculty in January 2013.
Education
PhD Nursing, Azusa Pacific University, 2008
MS Nursing Research, University of Alabama at Birmingham, 2005
MS Nursing Education, University of Jordan, 2001
BS Nursing, Jordan University of Science and Technology, 1997
Credentials/Certifications
Academic Areas
School of Nursing

Graduate Programs
Doctoral Programs
Expertise
Courses Taught
RNRS 327 – Nursing Research and Statistics
RNRS 367 – Pathophysiology
UNRS 404 - Nursing Care for Children and Young Adults
GNRS 663 - Educational Clinical Practicum
GNRS 508A – Research and Theory in Advanced Practice Nursing
GNRS 583/583P – Nursing Care of Children and Young Adults and Practicum
GNRS 716 - Translational Research
GNRS 732 - Clinical Residency (DNP Program)
GNRS 791 - DNP Intensives
Office Hours
Monday, Wednesday, Thursday, Friday 1:00 PM - 4:00 PM
Additional appointments are available by request. Please contact me to set up an appointment.