Marie N. Fongwa, PhD, MPH, MSN, RN
Professor
Phone:
(626) 815-6000, Ext. 5380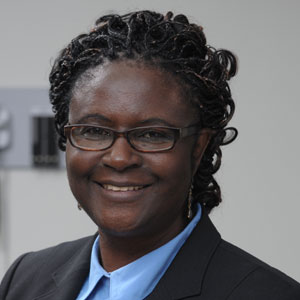 Biography
Marie Fongwa, PhD, RN, MPH, MSN, is a Cameroon-born-and-educated registered nurse midwife. Her professional work experience ranges from acute care and hospital bedside nursing care in Cameroon to care in long-term and rehabilitation hospitals, occupational health nursing care, and disability case management in the San Francisco Bay Area. Fongwa taught at the UCLA School of Nursing from 2001–09, and joined APU in January 2010. Fongwa is a health services researcher whose overarching goal is to promote culturally sensitive and competent care. Her research captures cross-cultural comparisons on quality of care, health-related instrument development, and secondary data analyses, and she presents and publishes her research findings. She reviews for several peer-reviewed journals and is one of six doctorally prepared experts on cultural competence nursing care who designed, wrote, and disseminated AACN's six core cultural competencies and toolkit for graduate nursing education. Fongwa is a role model for several international students and a mentor for many, including doctoral students.
Education
PhD, Nursing, University of California, San Francisco
MSN, University of California, San Francisco
MPH, San Jose State University
BS, Health Science, San Jose State University
SCM, Midwifery, Midwifery School, Cameroon
SRN/RN, Nursing School, Cameroon
Credentials/Certifications
Postdoctoral research training program, University of California, San Francisco
Academic Area
Expertise
Culturally Competent Health Care
Patient Satisfaction
Quality of Care
Courses Taught
GNRS 508A – Research and Theory in Advanced Practice Nursing
GNRS 597 – Comprehensive Examination Directed Study
GNRS 706 – Methods of Inquiry
GNRS 720 – Wellness Promotion and Health Maintenance
GNRS 721 – Health Disparities and Vulnerable Populations
Office Hours
Appointments available upon request. Please contact me to set up an appointment.
Related APU News