Leslie Van Dover, PhD, MScN, PN, RN, FNP-BC
Professor Emerita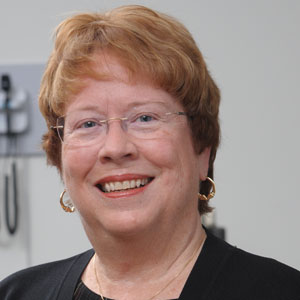 Biography
Leslie Van Dover, MScN, PN, RN, FNP-BC, was educated at the Montreal General Hospital, University of New Brunswick, and University of Western Ontario, Canada, the University of Michigan - Ann Arbor, and APU. At APU since 1997, she chaired the MSN program for ten years. Van Dover has worked in obstetrics, neonatal, community health, faith community nursing (FCN), and as a nurse practitioner (NP). She taught undergraduate, master and doctoral courses in several universities over 40+ years. She has served on many APU committees, including Graduate Studies Council, Appointment, Rank and Contract (ARC), and Faith Integration Council. Van Dover's research interests include faith community nursing, spiritual care, and Primary Care. With Jane Pfeiffer, she developed a theory of spiritual care giving by FCNs and also a theory of how patients who are cared for by Christian FCNs experience spiritual healing. She has presented at many national and international conferences and published numerous articles. With Bonita Huiskes she studies spiritual care experiences of FNPs to discover how better to interpret and teach their practice to student NPs. Van Dover worked in Louisiana immediately following Hurricane Katrina with the Red Cross, and has accompanied students to both South Africa and Haiti on APU study abroad trips. Her current FNP practice is at a primary care clinic in Los Angeles and with a church-based mobile clinic in San Bernardino County.
Education
PhD Nursing, University of Michigan, Ann Arbor, 1985
Post-Master's Family Nurse Practitioner, Azusa Pacific University, Azusa, CA, 2014
MScN Nursing Education/Parent-Child Nursing, University of Western Ontario, London, Canada, 1975
PN/FCN Faculty, Marquette University, Milwaukee, WI, 1997 & 2001
BN; University of New Brunswick, Fredericton, NB, Canada, 1973
Dip. Nursing, Montreal General Hospital School of Nursing, Montreal, Canada, 1970
Credentials/Certifications
Registered Nurse - Board of Registered Nursing State of California
Registered Nurse - College of Nurses of Ontario (CANADA) inactive
Nurse Practitioner Furnishing - Board of Registered Nursing State of California
Family Nurse Practitioner - AANPCP Certification
Academic Area
Expertise
Faith Community Nursing
Health Promotion
Primary Care
Spiritual Care
Courses Taught
GNRS 506 – Spiritual Concept Analysis in Health Care
GNRS 513 – Advanced Nursing Practice Role
GNRS 597 – Comprehensive Examination Directed Study
Office Hours
Mondays 10:00 AM-12:00 PM and 3:30 PM-6:00 PM( Azusa)
Thursdays 9:00 AM-5:00 PM (IERC)
Appointments available upon request. Please contact me to set up an appointment.
Related Links