Jane Pfeiffer, PhD, RN
Professor Emerita and Associate Professor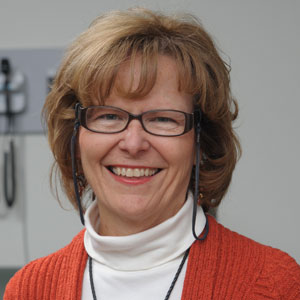 Biography
Prof Pfeiffer completed her PhD in 2014 and teachs Concepts of Professional Nursing, Ethics, Research and Theory. She is a founding member of the Spirituality and Health Institute, and has now expanded her 15 year history in spirituality and health research to include spirituality and health in the community.
She is the P.I. for the Intentional Outreach Intervention research at APU IRB. This multi-disciplinary, multi-university, mixed method research has involved masters of Public health (MPH) and Entry Level Masters nursing students. This study incorporates her long term interest in the interface of spirituality and health, but adds the public health dimension and strategically targets assessment and intervention to address perceptions of health and gaps in health in our current socio-political-spiritual environment. The goal is to develop a model any faith based organization can use to effectively intervene in the health of their neighborhood, and have church serve as a hub for community health and well-being.
Education
BS, Sociology, Kansas State University, 1973
BS, Nursing, Wichita State University, 1975
MS, Nursing, Loma Linda University, 1981
MA, Christian Studies, New College Berkeley for Advanced Christian Studies, 1991
PhD, Nursing, Loma Linda University, 2014
Credentials/Certifications
RN - Board of Registered Nursing State of California
Academic Area
Courses Taught
GNRS 500 – Conceptual Foundations of Professional Nursing
GNRS 504 – Bioethics and Health Care Policy
GNRS 508A – Research and Theory in Advanced Practice Nursing
Office Hours
Monday 10:00am-12:00pm
Thursday 11:30am-12:30pm
Appointments available upon request. Please contact me to set up an appointment.