William Schlitt, BA
Adjunct Professor, Percussion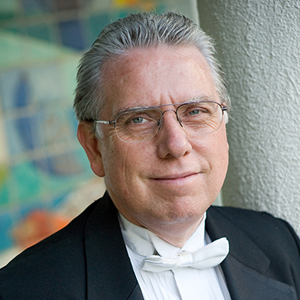 Biography
Bill Schlitt, BA, is an accomplished percussion performer and educator. Originally from Southern California, he has been active in the music industry for more than 40 years. His teachers include Hollywood studio legends Hal Rees, Earl Hatch, and Los
Angeles Philharmonic Orchestra Principal Percussionist Raynor Carroll. A member of APU's School of Music faculty at Azusa Pacific University for 25 years, Schlitt teaches percussion classes and directs the Percussion Ensemble. He also currently serves on the faculty at California State Polytechnic University, Pomona; Concordia University in Irvine; University of Redlands; Vanguard University, and is a member of Pi Kappa Lambda and Percussive Arts Society.

Schlitt has performed 13 years as a freelance recording percussionist for various motion picture and television films as well as numerous audio recordings. He has performed as a freelance percussionist in various ensembles throughout Southern California. He served as principal percussionist with San Gabriel Civic Light Opera and Music Theater of Southern California for 10 years. He has performed as an extra percussionist with the Los Angeles Philharmonic Orchestra and is currently the principal timpanist with the Redlands Symphony Orchestra. He has performed under such conductors as Pierre Boulez, Robert Shaw, Christoph Eschenbach, Esa Pekka Solonen, and premiered a work by composer John Cage.

Schlitt is an accomplished educator, clinician, and author of various percussion textbooks. Prior to APU, he served as director of percussion for the Idyllwild Arts Summer Music Festival for 26 years where he coached students from around the world to perform at the Walt Disney Concert Hall in Los Angeles.
Education
BA, Music, California State Polytechnic University, Pomona
BS, Communication Arts, California State Polytechnic University, Pomona
Academic Area
School of Music (College of the Arts)
Expertise
Percussion Education
Percussion Ensemble
Percussion Performance
Courses Taught
MUS 1D1 – Applied Percussion
MUS 157, 258, 365, 470 – Chamber Ensemble - Percussion
MUS 334 – Percussion Instrument Techniques
MUS 440 – Instrumental Pedagogy - Percussion
MUS 452 – Instrumental Music Literature
MUS 491 – Senior Recital Percussion
Office Hours
Wednesdays, 9 a.m.-5 p.m.