Sarah Richart, PhD
Professor, Department of Biology and Chemistry
Phone:
(626) 815-6000, Ext. 6511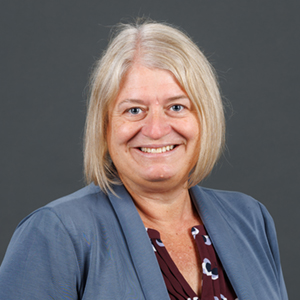 Biography
Sarah Richart, PhD, is a professor in the Department of Biology and Chemistry at APU. Richart studied virology as a post-doctoral fellow at the University of Alberta, Edmonton.

Since then, Richart's research focus has shifted to studying a species of fungus that is pathogenic to termites.

Other research interests include the history of public responses to vaccines prior to Jenner's cowpox vaccine for smallpox, and creation theology, especially human's relation to non-human creation.

Dr. Richart serves as the faculty advisor for the Pre-veterinary Club and the Sustainability Club at APU.
Education
PhD, Colorado State University, Fort Collins, 2001
BS, University of Illinois, Urbana, 1994
Credentials/Certifications
American Scientific Affiliation Fellow
APU Diversity Ambassador
Academic Area
College of Liberal Arts and Sciences

Department of Biology and Chemistry
Expertise
Immunology
Microbiology
Molecular Biology
Virology
Courses Taught
GE 100 - First Year Seminar
BIOL 151 - General Biology 1
BIOL 220 – General Microbiology
BIOL 240 – Biology of Microorganisms
BIOL 495 – Advanced Topics in Biology: Immunology
BIOL 495 - Advanced Topics in Biology: Medical and Molecular Virology
Related Links
Related APU News