Bradley McCoy, PhD
Chair and Professor, Department of Mathematics, Physics, and Statistics
Phone:
(626) 815-6000, Ext. 6535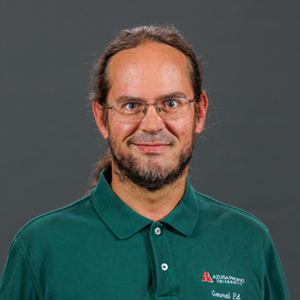 Biography
Bradley McCoy, Ph.D., teaches a variety of physics courses at APU, as well as writing and Honors. McCoy uses current advances in physics education research in his teaching methods, with specific emphasis on learning science by group problem solving within the framework of an organized problem solving strategy and by inquiry-based laboratory exercises. He won the University Leadership Award for his work on General Education Council. His research interests include phase transitions in smectic liquid crystals and education research on problem solving, STEM identity development, and epistemology.
Education
PhD, University of Minnesota
BS, California Institute of Technology
Academic Areas
Honors College
College of Liberal Arts and Sciences

Department of Mathematics, Physics, and Statistics
Expertise
Liquid crystals
Phase transitions
Physics faith integration
Scientific writing
Teaching by inquiry
Courses Taught
HON 340 - Nature
MATH 480 - Math Reading, Writing and Presentation
PHYC 125 – Earth Science Concepts and Applications
PHYC 130 – Earth Science
PHYC 151 – Physics for Life Sciences I
PHYC 152 – Physics for Life Sciences II
PHYC 161 – Physics for Science and Engineering I
PHYC 162 – Physics for Science and Engineering II
PHYC 263 – Physics for Science and Engineering III
PHYC 300 - Physics Research Seminar
PHYC 401 – Thermodynamics
PHYC 430 - Mathematical Methods for Physics and Engineering
PHYC 440 – Quantum Mechanics
PHYC 499 - Physics Thesis
WRIT 240 - Writing 2: Scientific Writing
Office Hours
Online or In-person office hours on Monday 3:00 - 5:00 PM; Tuesday 12:45 - 1:45 PM; and Thursday 3:00 - 4:00 PM. Virtual only office hours on Wednesday 5:00 - 6:00 PM. Contact professor or department for link.
Related Links
Related APU News