About the Program
Program Details
The MFA student's primary experience at APU centers on studio activity and the integration of faith and art. Supporting this is a schedule of courses that includes critical issues in art and four terms of in-depth study of the relationship of students' Christian faith and their lives as contemporary artists. Each student gains regular exposure to aesthetic or stylistic positions through faculty members and visiting artists and speakers. The program focuses not only on the refinement of visual skills, but also on the articulation of one's work and the cultivation of one's spirit and mind. Students bring creative force and imagination to their own development – qualities that can be stimulated and encouraged.
Program Objectives
The MFA program seeks to graduate artists who:
Contribute to the contemporary art world through the execution of quality art.
Play a central role by serving as a qualified art educators.
Move from thinking as a student to functioning as a working artist.
The MFA program at APU aligns with the university's Four Cornerstones and applies a rigorous intellectual climate to students accepted to the program. The program allows individuals to be at different points along their spiritual and artistic journey, while adhering to the program's core perspectives, which are Christian, academic, developmental, and service. The MFA student studies contemporary and historical art as well as the context that created it (culture, religion, politics, ethnicity, etc.). Intellectual curiosity is cultivated with a flexible and critical open-mindedness. Students are challenged to deal with the complexity and ambiguity of the world, and communicate truth effectively as they come to understand it. Core classes of the MFA create a small-group ethos that lends itself to the encouragement of a creative a Christian lifestyle in the students. The interactive quality of a cohort that meets together for four terms of study over a three-year period lends itself to healthy confrontation, struggle, risk, and the need to take responsibility for one's behavior, decisions, and continuing growth.
Program Format
The 37-month MFA program accommodates the working artist/educator by offering a program that requires students to be on campus for only four consecutive Julys and one weekend in January for three years. During the one month on campus, students advance with the same cohort for the MFA program duration, learning and growing together. Additionally, during this on-site time, students partner with professors, visiting artists, and speakers who serve as artist mentors, pushing and encouraging students to explore and develop beyond their current aesthetic and stylistic positions.
Individual studio time comprises an essential aspect of the program and offers the opportunity to retreat and augment on-campus interaction (e.g., classroom instruction, guest lectures, peer reviews, mentor direction, and critiques) and emerge with a cohesive and thoughtful perspective on art and faith. Through the consistency that studio time provides, students cultivate the discipline that lays the ground work for excellence and inspiration. Ultimately, students graduate as artists who naturally integrate their art-making with the major facets of their lives.
Residency Housing Options
When possible, all students will be housed where kitchens are available. No housing is available during January Residency and students must make their own housing arrangements for that time.
Location and Culture
Azusa Pacific University's main campus in Azusa, located 26 miles northeast of Los Angeles, provides art students with an exceptional opportunity to study and engage the art world through various venues. APU's main campus exists within a cultural intersection of art communities and world-class galleries and museums. Exposure to an art scene this rich in diversity enhances the on-campus experience, acquainting students with art that spans the gamut and can challenge student beliefs about the creative process.
Numerous cultural attractions exist within an hour's drive from the APU campus: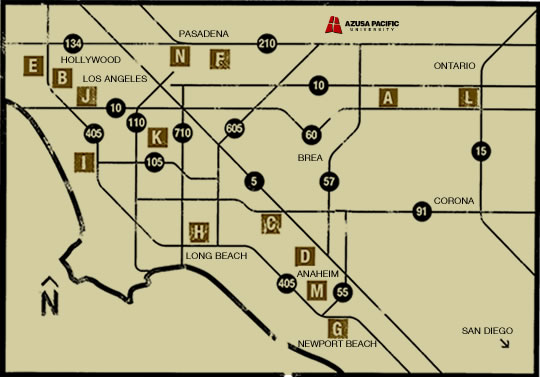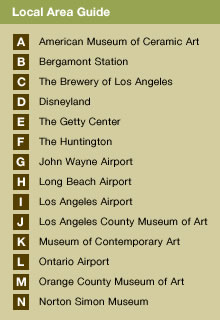 Within 15 minutes
The Huntington, Pasadena
Norton Simon Museum, Pasadena
Pasadena Museum of California Art
Pacific Asia Museum
Within 40 minutes
Bergamot Station, Santa Monica
The Getty Center, L.A.
Museum of Contemporary Art (MOCA), L.A.
Los Angeles County Museum of Art (LACMA), L.A.
The Brewery of Los Angeles (largest artists colony in U.S.)
Museum of Latin American Art (MOLAA)
Note: This information is current for the 2023-24 academic year; however, all stated academic information is subject to change. Please refer to the current Academic Catalog for more information.