William Catling, MFA
Professor, Chair, Department of Art, Interim Chair, Department of Design
Phone:
(626) 815-6000, Ext. 3724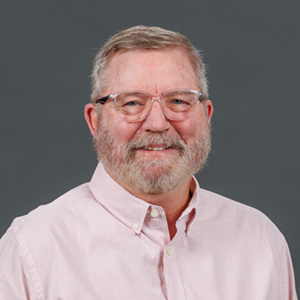 Biography
William Catling, MFA, was born in San Francisco and grew up in the Bay Area. He decided at an early age that art was what he wanted to do for life. Catling taught high school for 10 years, then moved to Southern California to begin teaching at APU in 1991. As an artist, he attempts to address the loss of our natural sense of being human—that is, our deeply intuitive sense of ourselves. He believes we have become disconnected from the natural rhythms of life.

The figures Catling makes are rough, cracked, aged, reflecting suffering and the internal capacity to connect to others outside oneself. Such suffering can evoke the viewer's empathy and self-transcendence. Viewers can embrace the condition of the figures, thus engaging themselves in the process of reconnecting by joining in the transcendent element of the work. The work does not eliminate the body's suffering, but presents it as a condition for spiritual uplift.
Education
MFA, Sculpture, California State University, Fullerton
MA, California State University, San Francisco
BA, California State University, San Francisco
Academic Areas
School of Visual and Performing Arts (College of the Arts)

Department of Design
Department of Art
Expertise
20th Century/Contemporary Art
Art and Faith Integrations
Ceramics
Contemporary Sculpture
Gallery Preparation
Public Mural Projects
Courses Taught
ART 205 – Ceramics I
ART 206 – Ceramics II
ART 305 – Ceramics III
ART 306 – Ceramics IV
ART 406 – Ceramic Studio Processes
ART 495 – Special Topics in Art: Art and Faith
ART 501 – Integration: Theory and Practice I
ART 601 – Integration: Theory and Practice III