Crystal Rosales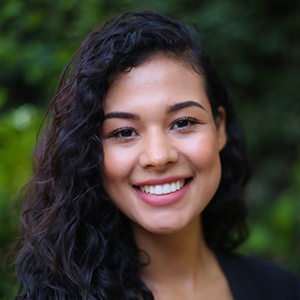 Transfer Representative
Graduated from California State University, Long Beach: 2014
Degree(s): BA in Psychology
Hometown: Baldwin Park, CA
Contact
crosales@apu.edu
Make an Appointment with Crystal
Q & A with Crystal
How has APU transformed you?
I am truly blessed to be part of the APU family. Growing up in Mexico and moving to California was a challenging transition; I constantly struggled when adapting to new environments. APU has welcomed me by giving me that sense of belonging. I love the fact that I am constantly reminded that we exist for a higher purpose and that by serving others, we are serving God. Being surrounded by amazing staff and students motivates me to enhance and develop new skills and to continue growing professionally and spiritually. APU represents opportunities and possibilities to reach what seems imaginable.
Which activities at APU have you most enjoyed being a part of?
APU has reiterated the importance of creating meaningful relationships with faculty, staff, and others. Therefore, I enjoy the opportunities I have to connect with prospective students during events, school visits, or appointments. I absolutely love getting to know the students and talking about their challenges, goals, and aspirations, and helping them develop a plan to take the next steps in their education goals.
What advice would you give to prospective students?
Visit campus! I believe that one of the best ways to find out if a university is the best fit for you is by actually going to the campus and meeting with admissions representatives and attending school events. It does require a little bit of work, but putting yourself out there and asking as many questions as possible can help you figure out the best school for you. Enjoy the process and transitions, and most importantly, trust God through it all.
How do you spend your free time?
I enjoy spending time with family and friends. I definitely love exploring new places and learning about new cultures. I enjoy contemplating nature and photographing beautiful landscapes. I also enjoy working out, and I love to dance.