Alexander Koops, DMA
Professor
Director of Undergraduate Music Education
Conductor of Symphonic Band
Director of Azusa Conservatory of Music Community Music School
Phone:
(626) 815-6000, Ext. 3583
Alternate:
(626) 633-9280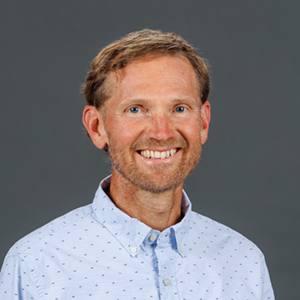 Biography
Alexander Koops was born and raised in Jos, Nigeria. He holds a DMA in Music Education from the University of Southern California, with minors in theory, orchestral conducting, and horn performance. His dissertation materials on introducing composition in middle school and high school bands and orchestras have been used by multiple schools in southern California. He completed his BA degree in Music Education from Calvin College (Grand Rapids, MI) and his MM degree in Wind Conducting from the University of Colorado (Boulder), where he studied with Allan McMurray. He has also studied voice and opera conducting with Nicholas Laurienti, former Artistic Director of the Denver Opera Company. He is the author of Composition Concepts for Band and Orchestra: Incorporating Creativity in Ensemble Settings (2020) as well as writing a chapter published in Composing our Future, (Oxford University Press, 2012), and was a contributor to Musicianship: Composing in Band and Orchestra published by GIA in 2013. Koops was awarded a Fulbright grant in 2012 to teach at the Jazeps Vitols Latvian Academy of Music in Riga, Latvia.

Alexander Koops has worked in California, Colorado, and New Mexico teaching band, orchestra, and choir as well conducting professionally and performing on horn and voice. While in Colorado he worked as the assistant conductor for the Denver Opera Company and led many performances, including The Magic Flute, La Boehme, The Medium, and The Threepenny Opera. In a review of The Magic Flute, Marc Shugold of the Rocky Mountain News stated, "Koops' conducting of the orchestra maintained a high artistic standard and a decent pace." Jeff Bradley of the Denver Post gave a fabulous review of the Denver Opera Companies production of The Medium emphasizing, "A fine chamber orchestra under the firm baton of Alexander Koops."

Koops joined the music faculty at Azusa Pacific University in August 2001 and is currently Director of Undergraduate Music education, Associate Director of Bands, and Director of the Azusa Conservatory (a community music school). He frequently conducts the Lake Avenue Chamber Symphony and performs regularly on his horn.

His wife, Shaelyn Theule-Koops, and their two children, Dana and Daniel, live in Azusa, California.
Education
DMA, Music Education, University of Southern California
MM, Instrumental Conducting, University of Colorado at Boulder
BA, Music Education, Calvin College
Academic Area
School of Music (College of the Arts)
Expertise
Horn
Instrumental Techniques/Conducting
Music Education
Practical Musicianship