Financial Aid
Leung Scholarship
The School of Accounting offers Leung Scholarships to all undergraduate students based on academic standing (GPA) and enrollment in Intermediate Accounting I or II.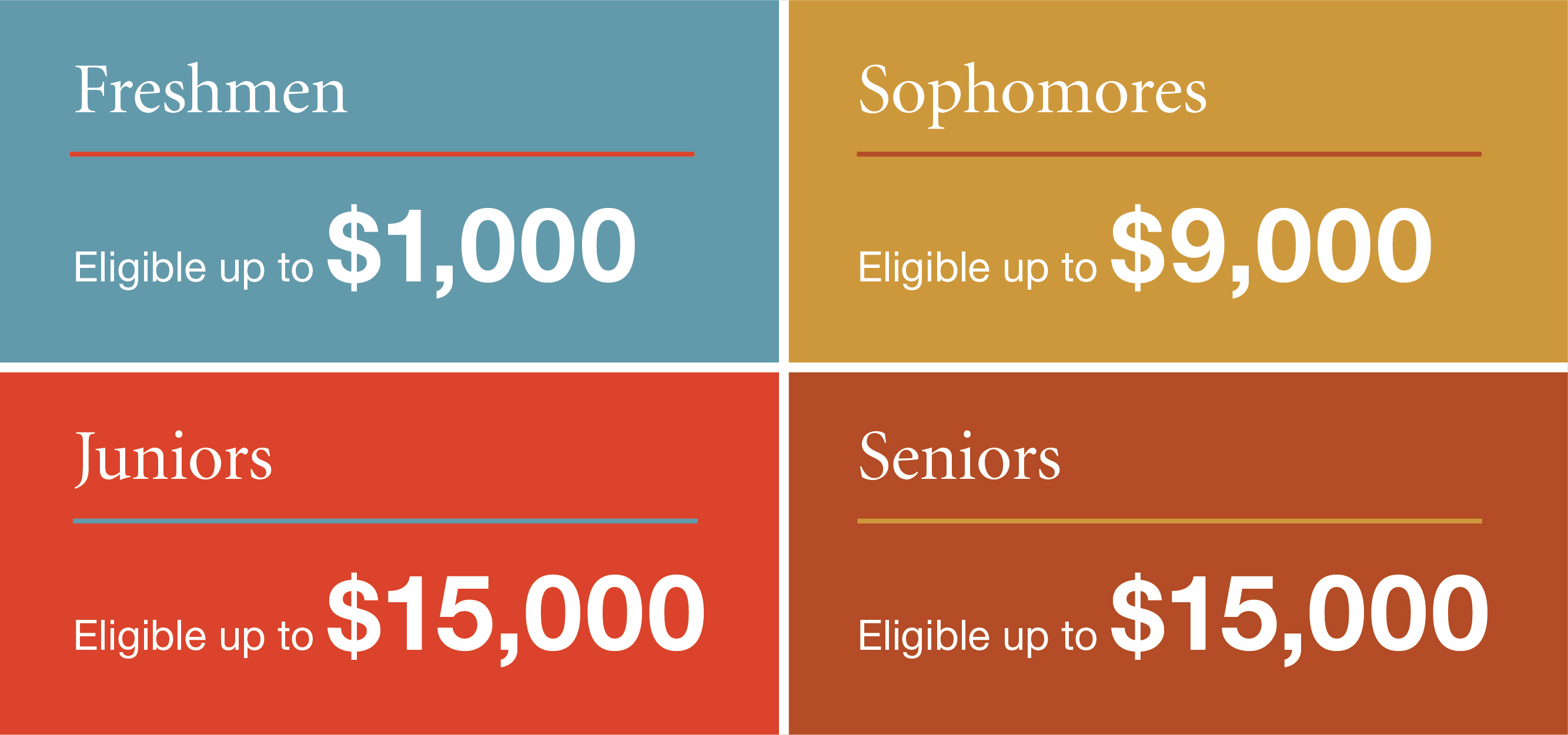 Yearly Amount
Freshmen: Eligible for up to $1,000 with a cumulative GPA of 3.5 or higher. One year only. Must enroll in ACCT 120 Principles of Financial Accounting and ACCT 122 Accounting Perspectives (1 unit) in their first semester, and ACCT 121 Principles of Managerial Accounting in their second semester.
Sophomores: Eligible for $7,000 to $9,000 depending on cumulative GPA and you must be enrolled in Intermediate Accounting I.
GPA 3.5-3.75: $7,000
GPA 3.75-4.0: $9,000
Juniors/Seniors: Eligible for $11,000 to $15,000 depending on cumulative GPA. You must have completed Intermediate Accounting I and II, and be progressing in the accounting major
GPA 3.45-3.75: $11,000
GPA 3.75-4.0: $15,000
Accounting Minors: Eligible for up to $5,000 per year with a cumulative GPA of 3.5 or higher. Renewable up to three years based on continued progress towards the accounting minor. (You must enroll in the Intermediate Accounting sequence the first year, and take two courses per year thereafter.)
How to Apply
Students may apply to the Leung Scholarship as incoming first-year students, transfer students, or second- or third-year APU students. Since enrolling in Intermediate Accounting I is required for consideration, most students will be sophomores or in their second year to qualify for the scholarship. Applications (via Google Form) are emailed to all students enrolled in Intermediate Accounting I or II at the start of every spring semester. Applicants are considered on the basis of academic performance, level of Intermediate Accounting course enrolled and/or taken, and professional goals and aspirations.
Disbursement
Once the student's financial aid file is complete, the award usually disburses into the student's APU account during the first month of the semester (first half of the award in fall, the second half in spring), or later depending on when documentation is received.
Renewability
The scholarship must be reapplied for every fiscal year and is not renewable.
To Retain Eligibility
Students must reapply every fiscal year and meet the Tier I and II requirements
Additional Financial Aid Opportunities
Although a private college education may seem out of reach for many, recent research from Kiplinger reveals that the actual value of some private universities may prove this assumption wrong. In 2010, Kiplinger selected Azusa Pacific University for its Top 100 Best Values in Private Colleges rankings. Read more about APU's ranking in Kiplinger's Best Values in Private Colleges.
APU students may take advantage of three types of financial aid: scholarships and grants, education loans, and student employment.
Scholarships and Grants
Scholarships and grants are considered "gift aid" and do not require repayment. They can come from federal, state, or private sources. Scholarships are typically merit-based, meaning they are awarded depending on demonstrated academic ability or other specific talents.
Scholarships are often available from sources outside of APU. You can search for these scholarships through websites such as finaid.org or fastweb.com. The Undergraduate Enrollment Services Center is sometimes notified of scholarships available through APU departments or local organizations, and can provide information about any available scholarships on request.
Education Loans
Education loans are usually repaid after graduation, may be deferred until after graduate school, and often have very low interest rates.
Military Benefits
Military members—and in some cases their spouses and dependents—qualify for financial assistance covering tuition, housing, and books. Azusa Pacific is a Yellow Ribbon University and Military Friendly School, so you can be confident that you'll receive the benefits and flexibility you need to complete your education.
Student Employment
On-campus student employment is available for students needing additional income to pay for education-related expenses. APU students also find work off campus in the surrounding community.
Net Price Calculator
We're committed to helping families understand early in the college search process the value of the APU experience, and options for affordable financing of a top-tier Christian university education.
Now that you're familiar with the financial aid opportunities available to APU students, it's time to estimate what your true cost may be to attend Azusa Pacific. Remember, estimations are only as accurate as the information you provide. Click on the Net Price Calculator button below to begin.
Net Price Calculator
Note: This information is current for the 2023-24 academic year; however, all stated academic information is subject to change. Please refer to the current Academic Catalog for more information.